Bochim / Dryburn Hall, Ninebanks, West Allendale
Dryburn Hall is located on the edge of the moor above Ninebanks (NY795532). Now derelict, it consists of an end cottage of two rooms - one up, one down - and a central section of four smaller rooms - together with extra accommodation for animals, fodder etc. The central section is still finished in rough stone, not plastered, but there is a walled up small fireplace in an upper room. At the inclosure of 1792/1801 Dryburn Hall was occupied by Thomas Shield, who was awarded just over 12 acres of inclosed land (exactly the same as John Swindale of Limestone Brae)
Dryburn Hall

Dryburn Hall interior (with sheep!)


1865 6" to 1 mile map (Click map for better resolution)
Bochim was built for Francis Swindle by members of his congregation 'at the upper extremity of Dryburn' around 1814/5 and Francis's children were born there in 1815, 1820 and 1824. By 1832, however, he had moved to Nenthead (and died there in 1842). His daughter Mary, however, at her wedding in 1839 gave her residence as Dryburn Hall. Bochim is located on the extreme right of the above map, just right of 'sheepfold'.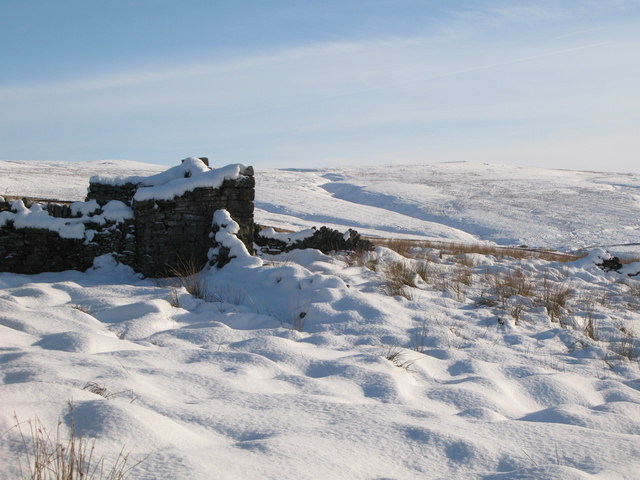 Ruins of Bochim in winter
© Copyright Mike Quinn and licensed for reuse under this Creative Commons Licence
Francis' eldest brother John and Ann Swindale lived at Dryburn Hall, Ann dying there in 1832 and John in 1851. Their child, Peter, was born at Nook in 1795; it is not known when they moved to Dryburn Hall.
Bochim is not mentioned in the censuses of 1841 or 1851 and had probably been abandoned.
The cousins Peter and Mary both gave their address as Dryburn Hall when they married in 1839 and their three children were born there (1841 - 1850).
In 1851, Joseph and Jane Chester were also living at Dryburn Hall, as well as John, Peter and Mary and their family. Peter died in 1861.
John Martin was living at Dryburn Hall in 1881 with his wife Elizabeth and his children Frances, John and Mary Elizabeth and was still there in 1891 with his wife and son John.
Modern times
Restored to a residential dwelling:-
"This freehold detached house is located at Dryburn Hall, Allendale, Hexham NE47 9PA and has an estimated current value of £130,629. , NE47 has 207 properties on it with a current average value of £309,808, compared to an average property value of £250,565 for NE47. There have been 16 property sales on over the last 5 years with an average sold house price of £329,154 and this detached house was last sold on 18th Aug 2003 for £100,000. There are currently 149 houses and flats for sale in NE47 with an average asking price of £324,119 and 22 properties to rent in NE47 with an average asking rent of £198 pw." (Zoopla)