Henry Edward Surtees
Second son of Robert Surtees and Elizabeth Cookson, born May 1819
Married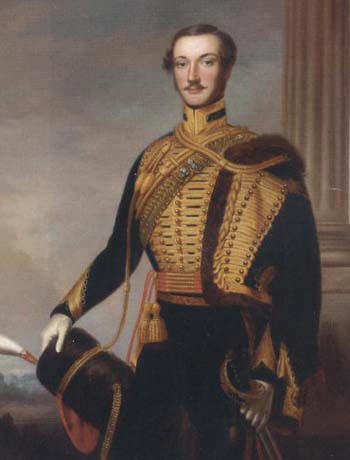 Elizabeth Chauncy (Died 1st Oct 1854) on the 6th of December 1843
Children
Elizabeth Ellen
Caroline Isabel, born 1848 at Little Munden, Hertfordshire (d 29 Jul 1946)
Georgina Mary

Married Isabel Mary [Adams in 1870 in Cheltenham?]
Children
Cicely Isabel, born 1871/2 in Little Munden, Hertfordshire
Henry Siward Baliol, born on the 22nd of January 1873, at 47, Albemarle Street, Piccadilly, London and baptised at St Luke's, Cheltenham.
Robert Lambton, born 1879 in London
Died 1895
Notes
1 1881 census
2 The marriage of Henry Edward Surtees was registered in the third quarter of 1870 in Cheltenham. The marriage of Mary Isabella Adams is listed on the same page.
3 MP for Hertfordshire 1864-1868
4 ...limited to legal uses in strict settlement, under which Robert L. Surtees and Henry Edward Surtees were successively tenants for life. ...
The Weekly reporter, Volume 39 1891
5 A Genealogical and heraldic dictionary of the landed gentry of Great Britain
"Chauncy, Charles-Snell , Esq, Lord of the manor of Munden Parva, co Herts, m 9 Aug 1817, Elizabeth, dau of Thomas Beale, Esq. of Fitzroy-square, London, and has an only surviving child,
Eliza-Snell, m. in 1843 to Henry-Edward Surtees, Esq, second son of Robert Surtees, Esq. of Redworth (See vol ii, p 1333)" - with Chauncy lineage.
6
To help redress his loss of fortune, Nathaniel (Chauncy) sold the manor together with an estate known as Lordship Farm to his brother Charles, who had arrived in Dane End as a bachelor and had married Elizabeth Beale of Fitzroy Square, London, in 1817 at St. Marylebone Parish Church, and of her had two children, Elizabeth Snell in 1821 and Mary Snell in 1824.
He seems to have been of quieter disposition, shunning the social round and devoting himself to the life of church and village. He rarely missed the Vestry meeting and interested himself in the affairs of the poor. In 1840-41 he served as Sheriff of Hertfordshire. To his home as resident came Henry Edward Surtees, JP, DL, a Durham County Squire who in 1868 was elected MP for Hertfordshire. On a December day in 1843 he and Elizabeth, Charles' elder daughter, were married in Little Munden Church. She gave him three daughters, Elizabeth Ellen, Caroline Isabel, and Georgina Mary, and died in 1854 aged 33, her husband surviving her forty-one years.
http://www.mundens.net/genealogy/chauncy.htm
7 Cicely Isabel married in 1894 (Sir) Reginald Hugh Spencer, (K.C.B., K.C.V.O., D.S.O.— Cr. K.C.B. 1916, K.C.V.O. 1916. )
Elizabeth Ellen
1864 June 26. At Little Munden, Herts., the Rev. Edwin Prodgers, Incumbent of Ayot St. Peter, Welwyn, to Elizabeth Ellen, eldest dau. of Henry E. Surtees, esq., M.P., of Dane-end, Herts., and Redworth-house, co. Durham.(Gentleman's Magazine
8 The death of Henry Edward Surtees aged 76 was registered in the third quarter of 1895 in Alverstoke (Hampshire) (FreeBMD 2b 342)