Page last updated 13/07/10
Neighbour Moor House, Hamsterley Forest
Grid reference NZ026287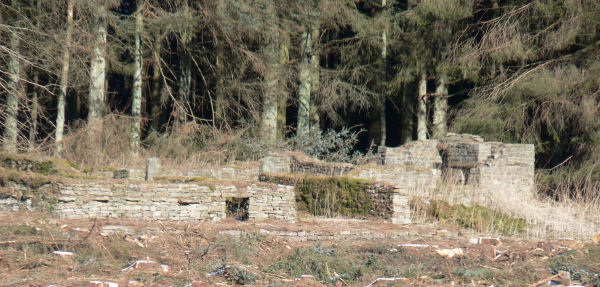 Neighbour Moor House sees the sun after 30 years


Click on map to see larger area of 1859 map
Hidden in the trees (until they were felled in 2006) just off the line of the old track from Egglestone to Wolsingham is the remains of a house. The house appears to have had two rooms with an attached barn and well constructed sheepfold. The Forestry Commission have erected a sign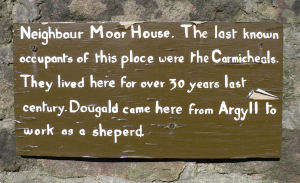 saying that the Carmichaels lived there for thirty years in the 'last' century (i.e. 19th) and that Dougal had come down as a shepherd from Argyll.
The 1881 census gives more information. Old Dougal the shepherd was 78, and living with him was his son James, the gamekeeper, and his wife Annie and three small children Annie, Dougal, and Jessie, and a 15 year old servant girl (Mary Wilson)! Dougal's son was 36 and had apparently been born locally so Dougal may have been living there for over 36 years.

Part of barn in foreground on right,
two living rooms in the background
(click to enlarge)


A well-constructed stone pathway led
from the track to the door

Half a mile away is a small U-shaped stone shelter, about 3 foot high and 3 foot across inside. It would have a good view if it weren't for the woods - and I can't think of a better use! The 1859 map calls it a pinfold - but it's a long way out of the way.

1881 census
Dwelling: Neigbour Moor
Census Place: Lynesack & Softley, Durham, England
Source: FHL Film 1342185 PRO Ref RG11 Piece 4930 Folio 35 Page 46
Marr Age Sex Birthplace
Dougal CARMICHAEL W 78 M Argyle, Scotland
Rel: Head
Occ: Shepherd On Moor
James CARMICHAEL M 36 M Durham, England
Rel: Son
Occ: Game Kp & Watcher
Catherine CARMICHAEL M 31 F West Hartlepool, Durham, England
Rel: Wife
Annie CARMICHAEL 7 F Durham, England
Rel: Daur
Occ: Scholar
Dougal CARMICHAEL 5 M Durham, England
Rel: Son
Occ: Scholar
Jessie CARMICHAEL 2 F Durham, England
Rel: Daur
Mary WILSON U 15 F Sunderland
Rel: Servant
Occ: Domestic Servant