Derwent Row, Broughton Cross, Cumberland.
Derwent Row, or Twenty Row, is a row of twenty stone-built terraced houses in Broughton Cross.
Built sometime after 1865 to house miners ('ten for the day shift, ten for the night shift') at the new Melgramfitz Colliery a few hundred yards to the west. Of a traditional two up, two down construction, the single storey bathrooms at the rear may well be a later addition. They front directly onto the old Cockermouth to Workington road and at the rear a bank drops down to the modern A66 road which follows the line of the old railway. On the other side of the A66 the River Derwent meanders backwards and forwards across its flood plain.
At the west end of Derwent Row is a building comprising two dwellings ('for the mine manager and his office') and then a row of three terraced houses at a right angle to the road. This group is known as Collin or Colin Grove.* It is older than Derwent Row since it is shown on the 1867 map, whereas Derwent Row is not.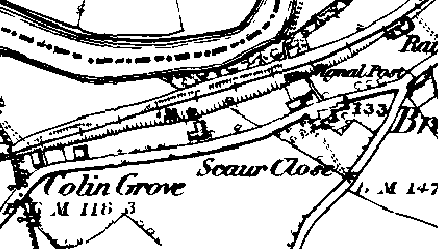 Click on image for larger area
There had been coal mining in the area since at least 1673 but most of the pits had been a mile to the southwest where the river Marron met the Derwent. I believe the land on which Derwent Row was built belonged to Isaac Fletcher who lived at Tarn Bank, Greysouthen, 500 metres to the south. Isaac Fletcher (1827 - 1879) belonged to a Quaker family of coal owners descended from Isaac Fletcher (1714-1781), a Quaker farmer and lawyer of Underwood, 7 km to the southeast. Isaac and his brother William opened the Melgramfitz Pit in 1863. It closed in 1886 and this marked the end of coal mining in the immediate area. Both Isaac and William became Members of Parliament for Cockermouth, though Isaac tragically committed suicide in 1879.
I have been told by a neighbour that 'the squire' would drive down in his carriage to the station at Broughton Cross, have the carriage placed on a railway wagon, and then ride in his carriage to Workington to work! Whether this was Isaac of Tarn Bank or William of Brigham Hill, I do not know.
Isaac was a prominent amateur astronomer and his observatory at Tarn Bank still stands.
1881 Census
Collin Grove Samuel Messenger and his mother - Colliery Clerk
Collin Grove Alexander and Isabella Fulton, 6 children - Water Bailliff
Collin Grove Robert and Mary Byers, 3 children - Plate Layer
Collin Grove John and Ann Burns, daughter and grandson - retired Iron Mine Manager
Derwent Row
No number Tom and Mary Bire - Pit Joiner
No number Daniel and Ann Bowes, 4 children - Coal Miner
No 1 James and Nancy Carruthers, 6 children - Coal Miner
No 2 William and Sarah Millburn, 3 children - Coal Miner

No 4 Joseph and Ann Reart - Coal Miner
No 5 John and Jane Irving - Coal Miner
No 6 Joseph and Martha Stephenson, and George and Deborah - Coal Miners
No 7 Thomas and Jane Ostle 5 children - general labourer
No 8 William and Ann McVay, 7 children - Engine Man Coal Mine
No 9 Thomas and Ann Cass, 5 children - Coal Miner



No 13 Thomas and Alice Lumsden, 7 children - Weighman, Coal Miner
No 14 Joseph and Elizabeth Reynolds, 6 children and a nephew - Coal Miners
No 15 Joseph and Annie Armstrong, 2 children - Railway Labourer
No 16 Daniel and Sarah Ostle, 3 children and a boarder - Coal Miner
No 16 Thomas and Ann Irving, stepson, daughter and boarder - Coal Miners
No 18 John and Elizabeth Calister, 4 children - Coal Miner

No 20 William and Margaret McDougall, 6 children, 1 grandchild - huntsman
Brigham Hill
William and Caroline Fletcher, 6 children, governess, 7 servants - Coal Owner
* A new house is being built in 2005 between the two buildings of Colin Grove.