Witton Castle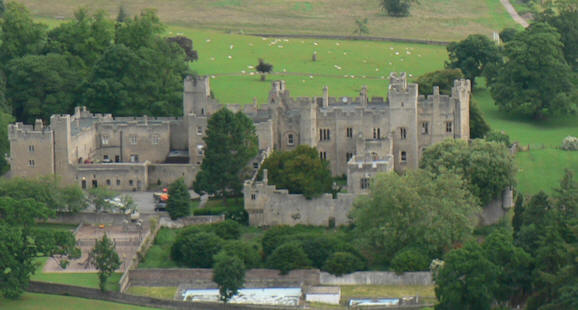 Witton Castle from the south 2010
Located just south of the river Wear in County Durham (grid reference NZ1537230431) the present building is mainly the result of late 18th century and also 19th century alterations and additions following a partial demolition in the late 17th century.
It should not be confused with Witton Castle, Netherwitton, in Northumberland.
Sir Ralph de Eure built a castle - a three storey tower house with a curtain wall - on the site shortly before 1410 (when he paid a fee for retrospective permission to fortify the building 1). The castle was built on the site of Barmpton Hall, home of the Barmpton or Bermeton family who held Witton manor in the early 14th century. Their lands were acquired by Sir John de Eure some time between 1350 and 1380. 2 The Eure's remained at Witton for over two hundred years.
In 1638 the castle passed from the Eures to the Darcy family. 3 "In the civil wars Witton Castle was in the hands of Sir Wm. Darcy, but he being a royalist, it was besieged and taken by the parliamentarians, under Sir Arthur Hazekrigg, governor of Auckand Castle." 4 Sir William Darcy later 'compounded' ( ie paid a fine) for £1000 to retain his estates despite being on the wrong (Royalist) side in the Civil War. 5
In 1689 the original castle was gutted by Lord James Darcy for its roofing lead, timber and chimneys 6 but was rebuilt in the early 1700s. 6
In 1743 Witton Castle was sold by the D'Arcys to a William Cuthbert (died 1747), a barrister and Recorder of Newcastle. The castle passed to John Cuthbert (d1782) and his sister Philiadelphia and then to John's nephew John Thomas Hendry Hopper. 7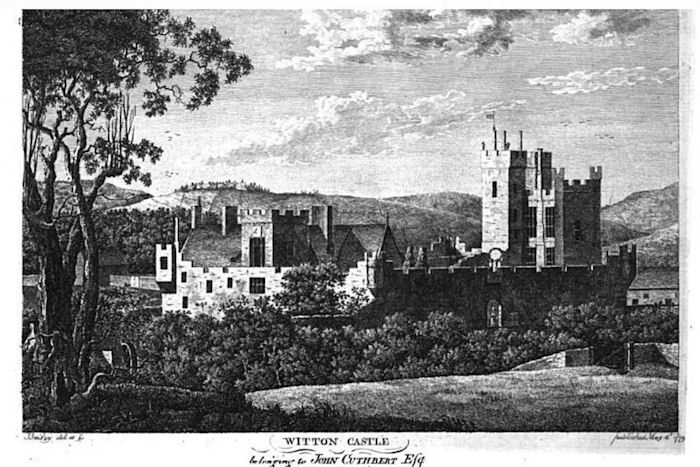 Witton Castle in 1781 before the 1796 fire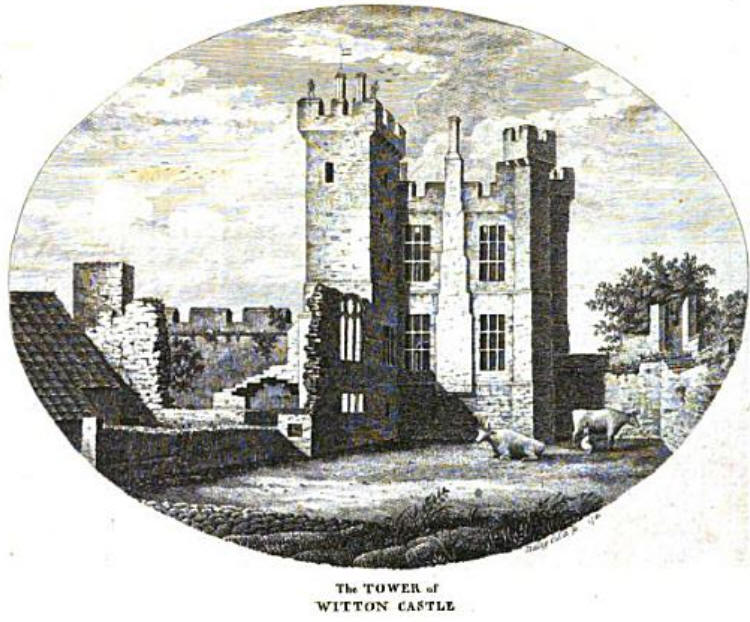 While undergoing repair by Thomas Hopper (John's son), the castle was was severely damaged in a fire in December 1796 which destroyed most of the castle interior. " Thomas Hopper restored the castle, retaining its external appearance but providing a 'modern' interior. 8 Thomas Hopper unfortunately fell down the stairs of the castle and died on the 30th of October 1812.12
In 1816 William Chaytor ( later a Baronet) of Croft Hall, Yorks purchased the castle estate 8 for £78000 9 and restored the fabric and rebuilt the interior in modern style. . The estate was rich in coal and Witton Park colliery was sunk in 1825.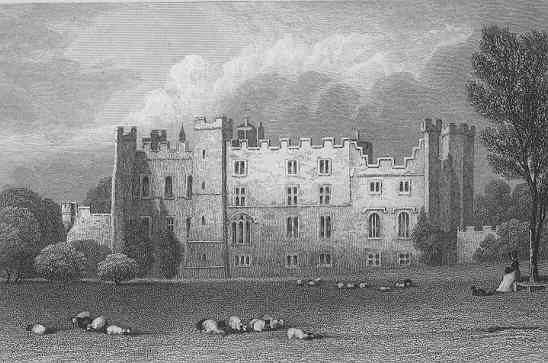 Witton Castle after the re-building (picture printed 1823)
In 1839, Donald Maclean Esq. bought Witton Castle and estate from Sir William Chaytor, for £100,000. He was probably primarily interested in the coal but became a bankrupt in 1846. 10 The estate was repurchased by Henry Chaytor Esq. JP, in 1851. The Chaytors held the castle and estate until the sale to the Lambton trustees in 1963.
The estate was then developed as a caravan site and leisure complex. The Lambtons sold the estate to a holiday park operator in 2007 for in excess of £12.5m
References & Notes
1 A Durham Pardon licence to crenellate was granted in 1410 Sept 23.
" Thomas, by the grace of God, Bishop of Durham, sendeth greetings: Know ye, that whereas Radulphus de Eure, Knight, did begin to enclose his manor of Witton with a wall of lime and stone, and to embattle, crenelate, tourillate, and erect a fortress on the said manor, not having first obtained our license or that of our predecessors; we, out of our special grace, have pardoned that transgression; and. moreover, have granted and given license, for us and our successors, to the said Radulphus, to inclose his manor aforesaid with a wall of lime and stone, and to castellate, crenellate, tourillate, and build a fortress thereon; to have and to hold to himself and his heirs for ever, without impediment from us or our successors, our justices, escheators, sheriffs, or other bailiffs or officers whatsoever, or those of our successors for ever. In witness whereof, &c.- Given this 23rd. day of September, in the fifth year of our pontificate. "
It may be noted that Sir Ralph was the Bishop's Steward and probably responsible for ensuring that a licence was granted!
2 The Bishopric of Durham in the Late Middle Ages: Christian D. Liddy 2008 p48,49. The manor of Bermeton is listed in the possessions of Robert de Eure at his death in 1369 in his Inquisition Post Mortem
3 1638, Aug. 8. Fine. Richard Slinger, gent., and Aron Abdall, gent., plaintiffs, and William, lord Eure, Ralph Eure, esq., son and heir of lord Eure and Katherine, his wife, William Eure, esq., Miles Philipson, esq., Robert Parkinson, gent., Robert Letkin, gent., Nathan Knipe, gent., and John Wascott, gent., deforciants. Castle of Witton-le-Wear, and lands there and in Hamsterley. (D., vi, 21)
Archaelogia Aeliana 1921 Coleman Deeds p188? continued from p172
Exemplification of recovery by William Darcy, William Bellasis and Gerard Salvyn against Richard Slinger and Aron Abdall of the castle of Witton with the manors of Wilton and Hamsterley, 130 messuages, 30 barns, 4 mills, 4 dovecotes, 50 gardens, 50 orchards, 1000 acres land, 1000 acres meadow, 3000 acres pasture, 500 acres wood, 2000 acres furze and heath, 10000 acres moor and 100s. rent in Wilton le Wear, Hamstoley, Sedborne, Sedbornehall, Northbedborne, Garth Macknell, Testhill, West Aukland, New Blackley Hall and Ditchburn Hall and free fishing in the Wear 13 Jun 4 Cha I
Gell family of Hopton [D258/21/25 - D258/36/8]l - Derbyshire Record Office
4 History, directory, and gazetteer, of the counties of Durham and Northumberland William Parson, William White (of Sheffield) Printed for W. White & co. by E. Baines and son, 1828
5 SIR WILLIAM DARCY OF WITTON CASTLE.f (Cal. in. p. 1880.) 1648. Dec. 14. Dorothea, wife of Sir Wm. Darcy, petitions that her husband may be permitted to compound and free his person and estate from sequestration. ...
Records of the Committees for compounding, etc: with delinquent royalists in Durham and Northumberland during the civil war, etc., 1643-1660 Richard Welford p178,9
"At the period of the civil wars, we find Witton possessed by Sir William Darcy, his castle of Witton was besieged and taken by the Royalists under Sir William Hazelrigg, governor of Auckland Castle. !!
Sir William was compelled to compound for his estates for £1,000, with £40 per annum settled for the support of the Presbyterian ministry.
History, topography, and directory of the county palatine of Durham ... By Whellan, William, & Co 1856 p338
A salutary lesson in not believing everthing you see in print! Sir William Hazelrigg was the Parliamentarian governor of Newcastle in 1647. See also reference 4
6 In 1657 Sir William Darcy, now made a baronet, and his son George Darcy mortgaged the castle, manor and
lands of Witton and Hamsterley plus other holdings, to Sir Thomas Hewitt of Pishobury, Hertfordshire.
On 13th and 14th June 1663 Marmaduke Darcy signed deeds transferring to James Darcy the castle and lands at "Witton als Witham als Witton on the Weir" and in Hamsterley.
On 5th July 1678 Sir William Darcy petitioned the House of Lords19 in the Darcy v Darcy dispute. At this time he was seised in fee of the Manor and Castle of Witton, the Park of Witton and the Lordships of Hamsterley and Bicknold Grange. By 1687 he owned Bedburn Park (N.A. E 134/3 Jas 2/East 5). At the same time William Blackett had an action against John Madgin alias Magshon alias Madgshon before the King's Remembrancer concerning Bedburne Park.
In 1689 James, now Lord Darcy, dismantled the castle of its lead, timber and chimney pieces to use them in the building of a house at Sadbury near Richmond, but "the greater part was sold at auction for much less than the sum paid for their pulling down and removing".
http://www.hamsterleyvillage.com/history-2/a-history-of-hamsterley/
...... was afterwards demolished by James Lord Darcy of Havan in the kingdom of Ireland, about the year 1689, who took away the lead, timber and chimney-pieces, to Sadberye, near Richmond, with a design to build another house there."
The history and antiquities of the county palatine of Durham, Volume 3 By William Hutchinson 1794
Many secondary sources state that the castle was rebuilt in the early 1700s but I haven't found an original reference.
7 On a separate note; in 1743 Witton Castle was sold to a William Cuthbert (died 1747), a barrister and Recorder of Newcastle. William's will is at the National Record Office at Kew and is very detailed. His first wife was Jane, daughter of John Stephenson. William and Jane had a daughter Margaret. Jane then presumably died and William married Dorothy and then had two sons and a daughter, Philidelphia, William and John. William also mentions his brother Rev Richard Cuthbert of Kendall, Westmoreland (who's wife was Margaret). His other brother George Cuthbert, Physician of Portsmouth. His sister Margaret who married James Nelson of London.

John Cuthbert (died 1782) of Witton Castle, near Durham. Son of William Cuthbert. Member of the Royal Society Club and of the Society of Arts. Fellow of the Royal Society (1765). A governor of the Inner Temple and of Magdalen Hospital, a London institution for the relief of penitent prostitutes. The castle was sold after John had died presumably in 1782. Witton Castle is located near Bishop Auckland, which is halfway between Darlington and Durham http://www.jjhc.info/cuthbertjohn1700.htm.
What Mr. Nicholas Greenwell, Gent. was doing there[Witton Castle] in the 18th. Century is not yet known. Perhaps he was the Agent for the estate. It is probably not a coincidence that three of Nicholas' children were called John, Cuthbert and Philadelphia. The owners of the castle after 1743 were John Cuthbert and his sister, Philadelphia. When John Cuthbert died, his sister Philadelphia's son John Hopper inherited the castle.
http://www.billgreenwell.com/fish_tree/appendix_five.htm
HOPPER (Witton Castle, co. Durham, originally of Bishop Middleham Hall, in the same county, now represented by the Rev. JOHN ROBERT HOOPER, A.M., eldest son of the late John Thomas Hendry Hopper, Esq. of Witton Castle, who inherited that estate from his uncle, John Cuthbert, Esq., serjeant-at-law.) Gyronny of eight, sa. and erm, over all a tower arg. masoned of the first. These arms appear on a seal of great age, in the possession of the Rev. J. R. Hopper. The heraldic register, 1849-1850 : with an introductory essay on heraldry, and an annotated obituary
8 "It was, however, restored to its pristine appearance on the exterior, through the taste of Thomas Henry Hopper, Esq. who preserved the outward form of the ancient fortress; and, at the same time, rendered the internal arrangements more suitable to our extended ideas of convenience and domestic comfort."


"After the decease of T.H. Hopper, Esq. the whole was purchased, in 1816, by Colonel Chaytors, who is the present proprietor."
Views of the seats of noblemen and gentlemen, in England, Wales, Scotland, and Ireland , Volume 2 John Preston Neale, Thomas Moule: Sherwood, Jones and Co., 1823
9 History, topography, and directory of the county palatine of Durham ... By Whellan, William, & Co 1856 p338
10 In August 1839, Sir William Chaytor sold Witton Castle and estate to Donald Maclean, Esq., M.P. for Oxford, for nearly £100,000. This gentleman, during his residence at Witton took an active part in the affairs and trade of the county, and maintained a splendid establishment : but, becoming a bankrupt in 1846, the estate, &c., were sold by an order of the High Court of Chancery, and were purchased on behalf of Henry Chaytor, Esq.
History, topography, and directory of the county palatine of Durham ... By Whellan, William, & Co 1856 p338
Donald Maclean MP for Oxford 1835 to 1847. Second son of Sir Fitzroy Maclean, clan chief of Clan Maclean??
Sir W. Chaytor, Bart., sold the Witton Castle estate to D. Madean, Esq., M.P. for Oxford, for about £96,000; the purchase money howerer was never paid, and Mr. Maclean becoming bankrupt in 1846, the property was, in 1851, resold to Mr. H. Chaytor for £68,540.
The local records of Stockton and the neighbourhood; or, A register of memorable events, chronologically arranged, which have occurred in and near Stockton ward and the north-eastern parts of Cleveland Thomas Richmond William Robinson, 1868
11 North estate on verge of being sold
Nov 22 2007 By Graeme King,
The Journal
THE historic and lucrative estate of Witton Castle in County Durham is on the verge of being sold by the trustees of Lord Lambton's estate in a deal worth over £12.5m. The 338-acre estate operates as a holiday and caravan park as well as being a popular fishing location, standing close to the village of Witton-le-Wear, just off the A68 trunk road. The buyer of the estate has not yet been revealed, but it is known several of the UK's big holiday park operators were bidding for the property. Witton Castle, which is nearly 600 years old, has been owned by the Lambton family for more than 40 years but has never been the family home. The estate features 475 caravan pitches, with 238 sited there permanently, some further residential accommodation and 20 acres of stocked fishing lakes.
12 Herbert Conyer Surtees " History of the Parish of Witton le Wear" p24.
Further Notes
Witton Castle stands on the opposite or south side of the river, and was anciently a place of considerable strength; the chief parts of the edifice are erected near the north-west corner of a large area, defended by a very strong curtain wall, embrazured and fortified with guerrets or small turrets at the corners, three of which are circular, the fourth corner is square: the entrance into the area is in the centre of the north wall ; the gate is defended by a hanging gallery. This was a royal manor, and held by the crown until the reign of King Henry II. who granted it to Henry de Putcaco, or Pudsey, our prelate's nephew, in consideration of two thousand marks of silver paid by the bishop."
The history and antiquities of the county palatine of Durham, Volume 3 By William Hutchinson 1794
Keys to the Past - Witton Castle
"The description that follows is the full English Heritage listing for this building":-
EVENWOOD AND BARONY SLOSHES LANE NZ 13 SE (North side) 2/27 (inset) Witton Castle 7/1/52

GV II*
Castle, now caravan site and leisure complex administration and club buildings. Probably late C14; licence to crenellate 1410; partial demolition late C17; extensive late C18 and C19 alterations and additions. Coursed sandstone rubble with ashlar dressings and some quoins; roofs not visible. Main north range of medieval castle with west extensions and additions forming enclosure to service courtyard. Main front of north range 2 storeys, 8 bays, with stair turret projection in second bay and full-height porch with projecting porte-cochere in fifth bay. Port-cochere has double-chamfered flat-2-centred arches; wide angle buttresses; front corbel table and battlemented parapet. Tudor-arched surround to boarded door in porch, which has Decorated tracery in 4-light windows, and battlemented parapet with stone figures of buck and doe. Polygonal stair turret has 3 set-back stages with small chamfered lights, and heraldic panels and date and initials HC 1881, below corbelled battlements. Varied windows in other bays in medieval and Tudor styles, some with dripmoulds, are all C19. Bays flanking porch project slightly, the right under tower with figures on battlements. Corbelled external chimney stack from ground floor between 2 right bays, which have set-back stages; right end angle turret has similar set- backs, as has corresponding turret at left end which is abutted by west forecourt wall (q.v.). Square stone chimneys on corbelled stack and to left of entrance bay; octagonal stone chimney on front of tower behind porch with bronze fox. weather-vane.

West extensions have some Gothic-style openings, some of mid-C19 character, and probably incorporate early north curtain wall. Interior of main range shows principal first-floor rooms with Gothic panelling and window reveals; barrel- vaulted ground floor.

Listing NGR: NZ1537230431
http://www.bishopaucklandtownhall.org.uk/DURHAMCC/K2P.nsf/K2PDetail?readform&PRN=D13785
"a handsome gateway entrance in the Norman style recently added by Sir W. Chaytor.
Witton (Durham) manor court records 1562-1823 are at Derbyshire Record Office D258 "Gell of Hopton Hall"
The History of the Parish and Township of S. Helen Auckland in the County Palatine of Durham together with the Township of West Auckland. Newcastle-upon-Tyne (1924), pp. 1-42. This booklet contains two impressive folding pedigrees. One is of the family of d'Arcy of Witton, with interesting biographical details. The second is of the family of Eden of West Auckland and Windlestone.