Page last updated 31/05/07
A Tour In Westmorland by Sir Clement Jones, published 1948
CHAPTER III
THE UPPER EDEN
SEDBERGH - CAUTLEY SPOUT - WHARTON - LAMMERSIDE
PENDRAGON CASTLE - THE RIVER EDEN - MALLERSTANG
EDGE - KIRKBY STEPHEN - HARTLEY
We left Burneside by car on Monday morning, 2nd June, in a blaze of sunshinewith the barometer at set-fair. Our plan for the day was first to drive to the Cross Keys Inn on the road from Sedbergh to Kirkby Stephen; to walk from there to Cautley Spout waterfall; to have lunch at the Cross Keys; and in the afternoon to see three ruined castles (Lammerside, Pendragon and Hartley); two old churches (Mallerstang and Kirkby Stephen); one historic farmhouse (Wharton Hall); and the upper part of the Eden Valley between Wild Boar Fell and Mallerstang Edge. Before we went to bed that night we had seen them all.
First then to Cautley Spout in the Howgill Fells, or, as you would say if you had been used to looking at them from Burneside, "at the back of the Howgills." The best plan is to leave your car, or your bicycle or your pack or whatever you don't want on a walk, at the Cross Keys and start walking from there. The inn is a solid, stone building with its date, 1732, above the door, and on its signboard is a painting of a bottle of ginger-beer, indicating the temperance nature of the hotel. There is a large, comfortable sitting-room in front and a sort of covered loggia at the back of the house giving shade and shelter, very pleasant for a meal after a walk on a really hot day like to-day, or on a wet one.
Unlike many other walks to waterfalls in Westmorland where, in the turn of a path or a gap in the trees, you may suddenly come upon the roar and the rocks, or as in the case of Stock Ghyll Force at Ambleside you may pass close by without seeing the fall at all, here at Cautley Spout you have your objective in full view the whole way. Such is the formation of the ground that you see the Spout from the Sedbergh road, from the Cross Keys, from the fields all around; there it is, straight ahead of you, tumbling down the mountain side, and there is, therefore, no need to explain the way up to it. It is in fact a tributary of the Lune, for its water flows at the foot of the fell into the Rawthey river (which near here is, for a short distance, the boundary between Westmorland and Yorkshire) which joins the Lune below Sedbergh. 1 It is odd that two fine waterfalls, each of them close to the Westmorland border and yet separated by many miles should have such similar names - Cautley Spout which we were now seeing, and Caldron Snout in Teesdale which we were to visit a few days later. But they are entirely different in their volume and in the nature of their fall, for whereas Caldron Snout is a cataract carrying the full force of the river Tees above Maize Beck, Cautley Spout is but a relatively small stream which is precipitated in three leaps from a height of about 800 feet into a dark pool below.
As Wordsworth wrote of Dungeon Ghyll:-
"The gulf is deep below,
And in a basin black and small
Receives a lofty waterfall."
The beauty of Cautley Spout lies in its setting in the mountain side and it forms a fine picture, especially after recent rain. Most people when they see a waterfall want to get close to it and look up at it from below and down into it from above, and, if possible, as at Niagara, to put on mackintoshes and stand between in and the rock. And so it was with us; drawn on by this magnet, in spite of the great heat, we crossed the beck below and began our climb. The first thing we noticed - and it was one with which we were to become only too familiar on our walks during the next few days - was the smell of dead sheep on the fells. Numbers of carcasses, in various stages of putrefaction, victims of the blizzard, lay all around on the ground. In one place about 20 yards square I counted five of these.
As we climbed we noticed a pair of buzzards wheeling over our heads, circling with that apparently motionless spread of wing that looks for all the world as if these birds were trying to imitate aeroplanes. Some weeks later I read an article on Vermin,2 in which the question was raised whether buzzards should be classed as vermin or whether the fact that they help to keep down rabbits puts them into another and better class.
"Buzzards," wrote the author of this article, "are common in large areas of wild country and their usefulness as rabbit gourmands is immense. A buzzard, like a raven, will probably not bother to kill anything, if there is a good feed of carrion to be had." I have no doubt that "Mouton à la Blizzard" was on the menu that day at Cautley.
We reached the edge of the waterfall and sat down under some mountain-ash trees in order to listen to it and cool-off a little, quite content on this occasion not to make a closer inspection of the leaps and black basins wither from above or from below. We then turned to go back to the Cross Keys.
We saw nothing rare in the way of birds that morning - mostly pippits and larks - and the flowers that we noticed on this walk were also what you would expect to find, and be glad to see, but "nothing to write home about": potentilla, water avens, louse-wort (pendicularis palustris), ladies' mantle (alchemilla vulgaris), milk-wort and yellow pansies - quite an ordinary lot, as you might say; but the beauty of flowers seen on a walk is independent of the rarity of specimens. What would I not give to see a few of the commonest fox-gloves and campions and stars of Bethlehem by the side of the road on my daily journey from the Thames Embankment to Whitehall?
We were joined at lunch at the Cross Keys, according to plan, by my cousin James Cropper, who, in addition to his many other activities as Lord Lieutenant and as chairman of many committees and other undertakings in Westmorland, is a noted and knowledgeable bird-watcher and is also greatly interested in ancient buildings. Kept in Kendal by meetings all morning he came with us on our afternoon expedition in the Upper Eden Valley. Lunch over, we crossed the border from Yorkshire into Westmorland at Rawthey Bridge and proceeded north to Wharton Hall, near Kirkby Stephen, which was our first stopping place.
WHARTON
The Whartons of Wharton Hall were "a considerable family" as early as the reign of Edward I. The first of their stock mentioned in the College of Herablds is Thomas de Wahrton who held the manor in the time of Henry VI, but they did not become ennobled until the reign of Henry VIII when Sir Thomas Wharton, knight, was advanced to the dignity of a baron for his signal victory over the Scots at Sollom Moss in 1542. Subsequently, with Lord Dacre, he marched into Scotland and captured Dumfries. He was summoned to Parliament as a baron in 1545 and died in 1568. 3
His great-grandson Philip, 4th Lord Wharton, was a distinguished Roundhead and Puritan and was colonel of a regiment or horse under Cromwell. He bequeathed 1,050 Bibles to be distributed yearly among that number of children in Westmorland, Cumberland and certain other counties. His son Thomas, 5th Lord Wharton, was one of the most active agents in the revolution which placed William of Orange on the English throne, and though afterwards resolutely opposed to the Tory Ministry in the reign of Anne, nevertheless he was created an earl in 1706 and a marquess in 1715.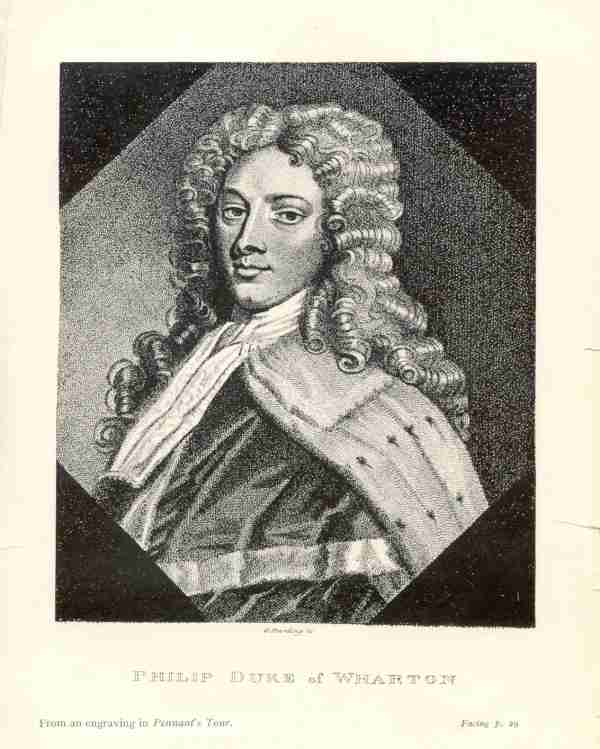 He was known amongst his own party as "Honest Tom Wharton." His son Philip, the 6th baron and 2nd marquess, was but seventeen years of age at the time of his father's death in 1716. He was a person of unbounded genius, eloquence and ambition, but he was extravagant in cultivating the arts of popularity and ruined his career by his eccentricity and profligate conduct. Starting as a violent Whig, for his extraordinary services in Parliament and out, he was created, in 1718, Duke of Wharton. After that he set up in opposition to the Whig Ministry, became a Tory, then a Jacobite, then a rebel against his King and country by accepting a commission in the King of Spain's army against Gibraltar. Finally he retired into a Bernardine monastery in Catalonia, where he died childless in 1731, aged 32, when all his titles became extinct, except the barony. 4 Thus the ancient family of Wharton which had flourished in Westmorland for some 500 years came to an end in this district. The estates had previously been sold in 1728 to one of the Lowthers.
When Pennant made his tour through Westmorland in 1773, he found people living who "well remembered this British Clodio and bear witness to the profligacy of his character; to his hunting upon Sundays, and shewing in all his actions an equal contempt of the laws of God and Man." Alexander Pope has immortalised him in the following lines:-
"Wharton, the scorn and wonder of our days,
Whose ruling passion was the lust of praise:
Born with whate'er could win it from the wise,
Women and fools must like him or he dies:
Tho' wond'ring Senates hung on all he spoke,
The Club must hail him master of the hoke.
Thus with each gift of nature and or art,
And wanting nothing but an honest heart,
Grown all to all, from no one vice exempt
And most contemptible to shun contempt.
Ask you why Wharton broke through every rule?
T'was all for fear the knaves should call him fool."
Wharton Hall, about two miles south of Kirkby Stephen, has long been in ruins and is now occupied as a farmhouse. It stands well on an eminence near the river Eden. The buildings surround an irregular, quadrangular courtyard, about 160 feet long by 90 feet wide. The original block of the north-east corner was built late in the 14th or early in the 15th century; then, in the reign of Henry VIII, a new great dining-hall and kitchen were added to the south-east of the earlier part of the house about 1540 by Thomas, 1st Lord Wharton, who later, in 1559, built the massive gatehouse through which you enter to-day. It is an interesting example of the larger mediaeval and later houses of the county. Previous to living here the Whartons are said to have resided at Lammerside Castle, the ruins of which are still to be seen about half a mile away to the south.
The great hall, the kitchen and the gatehouse at Wharton Hall are now in ruins but enough remains to show what a fine place it has been. In the olden time hospitality must have been on a lavish scale; two vast fireplaces that you can still see in the old Tudor kitchen and another one, 12 feet wide, in what remains of the great dining-hall, bear witness to former feasts. In my youth I was told that in the great days of Wharton Hall there was stabling for 40 horses, and indeed it is difficult, considering the size of the place, the state of the roads, and the coming and going from London, to see how they could have done with less.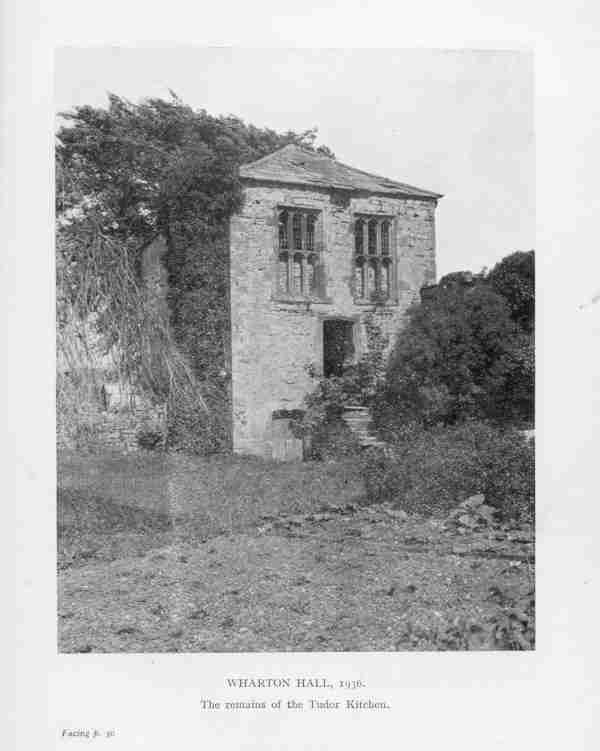 One of the tragedies of the break-up of estates, due to heavy taxation, is that so many of our lovely, ancient halls and farmhouses must inevitably fall into disrepair unless something is done to save them. The Ministry of Works cannot be expected to take them all under its official wing, nor, except in rare cases, can the new owners find the money, even if they have the inclination to carry out the work of restoration; the National Trust has not the funds. And yet one must hope that a way may be found to interest more people in the preservation of beautiful things and thereby increase the number of subscribers to the National Trust. For what is the alternative? Surely it is that there will be few if any of these old buildings left for those who come after us to see. I take Wharton merely as an example, but what I have said applies equally to Middleton Hall and Beetham Hall to which I shall come later. I give two illustrations of Wharton: the earlier one from Pennant's "Tour" when the rot had already started to set in; the later one from the Report of the Historical Monuments Commission of 1936, when the rot was far more advanced. When we visited the place in 1947 the state of the fabric, after only 11 years since the photograph was taken, was noticeably worse. For instance, in the great Tudor kitchen several elder trees - those powerful and unwanted intruders - were thrusting their roots and branches into a really lovely piece of architecture.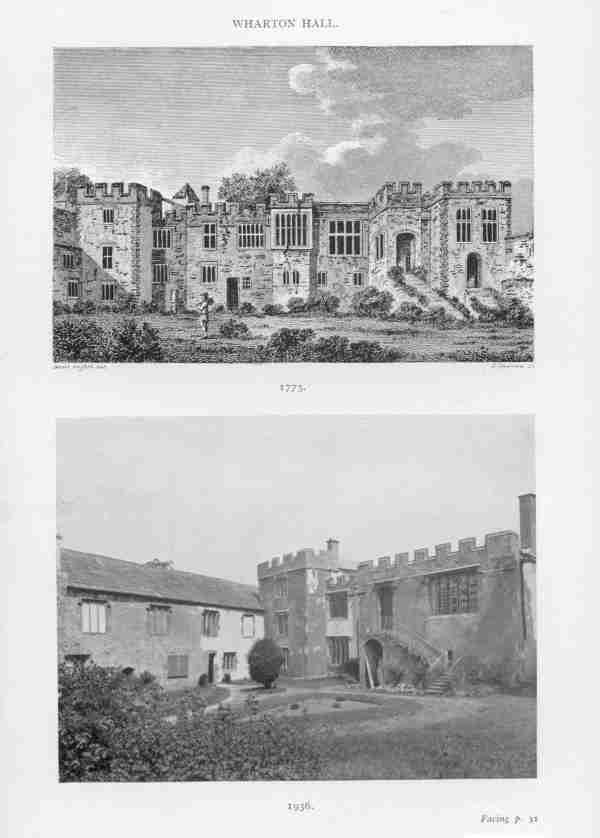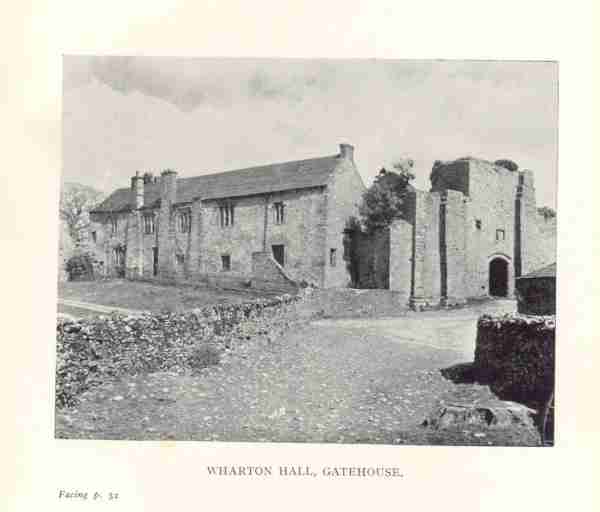 The fact is that while Englishmen take a great interest in old paintings and old furniture and in the restoring of them, they seem to care very much less for their old buildings. If the owner of a famous picture is reluctantly obliged to part with it, at once a hue and cry is raised all over England protesting that the painting must be saved for the nation, subscriptions are raised, donors come forward, while all the time our old and beautiful buildings are crumbling into decay.
I should like here to quote two authorities on this subject of architecture and the survivals of old houses. Osbert Sitwell has written:5 "Alas! how curious it is that these works of art only begin to obtain a wide appreciation when they are on the verge of being destroyed... What country houses of any size, one wonders, can hope to survive the next fifty years?" The same point has been made by Harold Nicolson in his review of a book on architecture in the Daily Telegraph: "English people," he wrote, "are not interested in architecture... If I could feel that I had been able to arouse an interest in architecture in only ten of my fellow citizens, I should cross the Styx with the conviction that my life had not been wholly wasted... If you enjoy looking at buildings you can indulge your pleasure from the top of a 'bus." No such vehicle, however, passes Wharton Hall, and in any case the crumbling process has been going on there before buses were invented. In 1777 Dr. Burn reported that "the hall is now in ruins and desolate, inhabited by no human creature but a poor hind."
Then came a day about 20 years ago when the fate of this hall and its possible restoration hung in the balance. A member of one of the branches of the Wharton family came, not for the first time, to look at what had formerly been the home of the senior branch who had become extinct. He heard that it was in the market; he saw that it was still capable of being done up and made again into a fine country house, for there was enough sound material left in the great gate-house, the north-west range of buildings and the Tudor kitchen to bring back the old charm and dignity. He was much tempted by the idea but, unfortunately for the place, he and his wife finally decided that it was too remote - too far from London, and they settled elsewhere. And so the project was never carried out. Wharton Hall remains a farm; each year the ruins become more ruinous; the picture is unlikely now ever to be cleaned and restored; the canvas is torn, the frame broken.
Our next port of call was Pendragon Castle. On the way there we passed Lammerside Castle but there is so little left of it that it is hardly worth more of a visit than a peep over the stone wall alongside the main road. From there you see what amounts to little more than a heap of rubble standing in a field. If you removed it bodily, exactly as it is to-day, and placed it in a vacant lot near St. Paul's Cathedral, a passer-by would give it no more than a glance and would perhaps add: "pretty badly blitzed."
PENDRAGON
About five miles south from Kirkby Stephen on the road to Hawes is Pendragon Castle, a small but strong, square building on an artificial mound close to the river Eden. It is said to have been built by Uther Pendragon, reputed father of the renowned King Arthur. What is certain is that is was granted, with the rest of the barony of Westmorland, to the Veteriponts and Cliffords. Although it could never have been a place of very great extent it was a strong fortress. Burnt by the Scots it was thoroughly restored by the Lady Anne Clifford in 1660, after it had been "layen ruinous ever since the year 1541." In 1685 it was dismantled by Thomas, 6th Earl of Thanet, who eventually inherited her estates.
Since then the decay has been continuous; what remains is of interest as an early example of the isolated type of building generally called a pele tower.6 It has now been taken over by the Ministry of Works for preservation purposes. In a guide book divided into counties, published in 1757, under the long-winded title of "The Beauties of England; or a Comprehensive View of the Public Structures, the Seats of the Nobility and Gentry, the two Universities, the Cities, Market Towns, Antiquities and Curiosities natural and artificial, for which this Island is remarkable" (people were not afraid of words on the title-page of a book in those days) there is a short list of but three principal seats in the county of which one is "The Earl of Thanet's at Pendragon Castle, 12 miles from Appleby." But Pendragon was certainly not the principal seat of Lord Thanet in 1757, because in 1695 Thomas, Earl of Thanet, grandson of Lady Anne Clifford, had taken the building materials from Brougham and Brough and Pendragon in order to make extensive alterations and repairs in Appleby Castle which was then his principal seat in Westmorland.
Tradition has it that Pendragon, who gave his name to this place, attempted to change the course of the Eden and tried to make its water surround the castle by means of a deep ditch which we can see to-day on the more defenceless side of the building. In this, however, he failed and the memory of his futile attempt is kept alive in the following well-known couplet:-
"Let Uther Pendragon do what he can
Eden will run where Eden ran."
He had probably forgotten that in trying to force the Eden to go where he wanted, he was dealing not with a mere river, but with a goddess.
In ancient times, in many countries, rivers were deified and regarded as sacred. Some of them, for example the Tiber, were gods; "O Tiber, Father Tiber, to whom the Romans pray"; others, like the Dee - or Deva, as she was called - were goddesses. Spencer introduces the Dee among the rivers attendant on the marriage of the Thames and the Medway:-
"And following Dee which Britons long ygone
Did call Divine, that doth by Chester tend."
Milton in Lycidas alludes to the Druids, the interpreters of presages, who dwelt upon her banks:-
"Nor yet where Deva spreads her wizard stream."
(Though perhaps the R.A.F. pilot of to-day might put a different construction on the adjective used by Milton).
Those who visit this part of Westmorland and see the loveliness and charm of the Eden and hear the beauty of her voice will not wonder that she was deemed a goddess or that to this very day people in Kirkby Stephen, when speaking of the river, will say "she." For out ancestors strongly retained the idolatry of the Druids among their Christian rites and it was long before we got clear of these superstitions, even if we are clear of them now!
Pennant tells us7 that most countries had one river which they held in peculiar veneration - the Greeks, the Romans, the Scythians, the Germans (Rhine), the Indians (Ganges) and the Gauls all deified certain lakes and rivers. For us at Pendragon, beyond any doubt, the Eden is our goddess.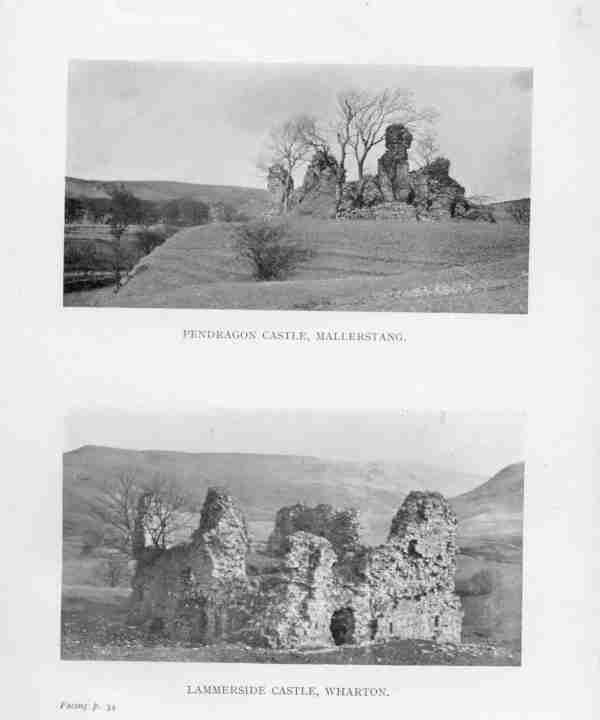 Our next stopping place, after leaving Pendragon, was the Parish Church of St. Mary, formerly a chapel of Kirkby Stephen, which stands at Outgill near the middle of the parish of Mallerstang. There was a chapel here in the Middle Ages, originally in the Norman style, but the existing building was repaired and largely reconstructed in 1663 by Lady Anne Clifford, after having been in ruins some 50 or 60 years; she also endowed it with lands which she purchased in Cautley near Sedbergh.
So proceeding south toward the Westmorland boundary, we entered an increasingly fine bit of country. On our left the high Mallerstang Edge, on our right the majestic flat-topped Wild Boar Fell and between them a narrow valley containing the river Eden and the Hawes road. The scene has been described in "Paterson's Road," and, since this is a rare publication of 1826, I will quote from it: "Among the eminences which rise in this neighbourhood is Wild Boar Fell, the giant of the group, which soars to a great height; it has a spacious plain on its summit, where the shepherds of the vicinity formerly held horse-races and from whence the prospect is extensive and highly interesting.
Where the road crosses the county boundary, just south of Aisgill Farm, our two cars separated. My cousin went on his way home to Burneside via Garsdale Junction and Sedbergh, while we three others turned round and made for Kirkby Stephen and tea. The actual boundary is at Hell Gill, of which mention is made in an article called "Mary Stuart in Wensleydale"8:-
"Hell Gill cuts across an ancient gate between Westmorland and Yorkshire. The modern highway clings to Mallerstang Gorge, but up here, where the wind never rests, a strip of close-cropped grass, among the surrounding heather, marks the way the Celt, Roman, Norsemen and Saxon trod when bent of foray or feud."
KIRKBY STEPHEN
Kirkby Stephen is a small but ancient market town on the west bank of the river Eden. It consists chiefly of one long, broad street running north and south. In its layout it is a typical mediaeval town, compact and complete: church, vicarage, manor house, market place, grammar school (founded by Thomas, Lord Wharton in 1566) and the houses all built of local stone, many of them looking neat and trim under their coats of whitewash. The absence of any cross-road in the town given the street an unusual effect of unbroken straightness, though there are several small alleyways running off the main street, which you hardly notice until you are passing them. Once when I went out to post a letter there was a man walking just ahead of me; he was wearing white flannels and carrying a cricket bag, for there was a match against Appleby that evening; I looked across the street for perhaps a second, to see if I could find a grocer's shop, and in the twinkling of an eye the cricketer in front of me had completely vanished. He had, of course, turned down one of the alleyways, and had not been "swallowed up quick," as it seemed to me walking behind him.
Kirkby Stephen church was probably first founded in the 8th century and rebuilt towards the close of the 12th; it was completely pulled down and again rebuilt about 1230, but from the end of the 14th to the latter part of the 16th century it underwent various alterations. It is to-day a fine example of Early English and later styles retaining traces of presumed Saxon work in the pre-Conquest stones. It consists of a chancel with the Wharton chapel on the north and the Musgrave chapel on the south, a nave of seven bays, aisles, transepts, south porch and an embattled western tower built about 1500 in place of the central Early English tower which fell in the 15th century. In the Wharton chapel is an elaborate altar-tomb on which are three full-length figures: Thomas, 1st Lord Wharton who died in 1568, his effigy shows him in armour with short hair and a long beard; on his right side is Eleanor, his first wife, daughter of Bryan Stapleton, and on his left side, his second wife Anne, daughter of George Talbot, Earl of Shrewsbury. Pennant observes about this tomb: "the sleeves of one of the ladies are of a most enormous length."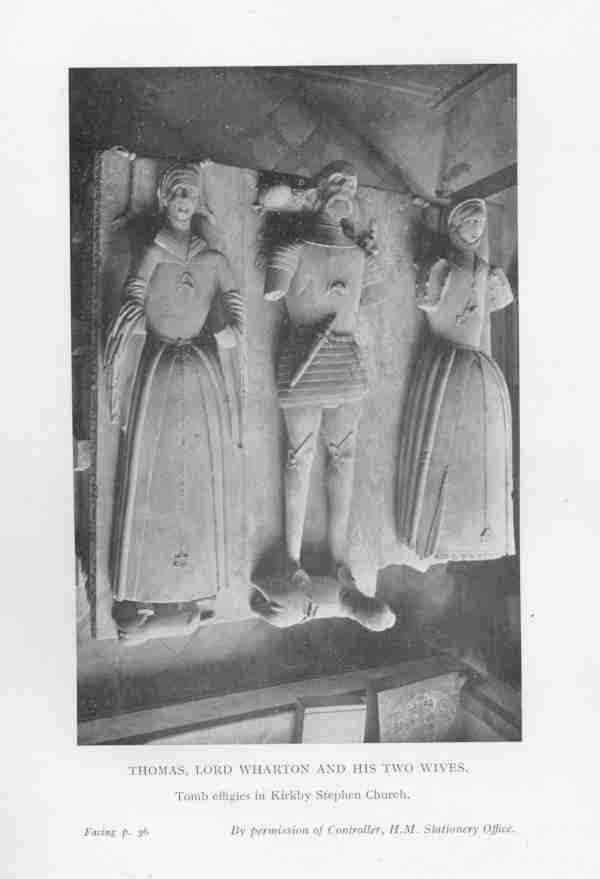 Another commentator has paraphrased the Latin inscription thus:-
"I, Thomas Wharton here do lie
With my two wives beside me,
Ellen the first and Anne the next
In Hymen's bonds who tied me.
O earth, resum thy flesh and bones
Which back to thee are given,
And Thou, O God, receive our souls
To live with Thee in Heaven."
In the Musgrave chapel on the south side is a plain altar-tomb to Sir Richard Musgrave, who died 1464, Elizabeth his wife and Thomas his son, with the Musgrave shield-of-arms (Azure six ring or) on the edge of the slab. In this chapel there is another and earlier altar-tomb assigned to Sir Richard de Musgrave, grandfather of the above Sir Richard. When this tomb was removed, on the rebuilding of the chancel in 1847, skeletons were found in a walled grave underneath the tomb; and in the grave was also found a boar's tusk, confirming the local tradition that this knight killed the last wild boar on Wild Boar Fell.
Kirkby Stephen Church is one of the two largest in the county. Before the dissolution of the monasteries in the reign of Henry VIII it belonged to St. Mary's Abbey, York, but afterwards, unlike Kirkby Lonsdale, Heversham and Kendal in the same county whose advowsons were all given to Trinity College, Cambridge, the rectory of Kirkby Stephen was sold in 1547 by Edward VI to Sir Richard Musgrave who in turn re-sold it to Thomas, Lord Wharton, in whose family it remained until the first and last Duke of Wharton sold it to his steward, Matthew Swales. Subsequently it was bought by an ancestor of the present patron, Lord Lonsdale.
After seeing the church we walked across the fields towards Hartley, about half a mile away, on the east side of the Eden. Hartley Castle was once a noble building standing on high ground overlooking the village of Hartley and surrounded by its own deer park. But to-day there is little enough left even of the ruins. By looking carefully we found part of an old wall.
The castle and manor of Harcla or Harclay or, as one authority spells it, Hardclay (adding "the soil of the place sufficiently indicates the reason of the name") and more recently called Hartley, was granted by Edward II to Sir Andrew de Harcla, whose rise and fall were equally rapid and spectacular. He was in high favour with the King, was appointed Lord of the Marches and Sheriff of Westmorland, was created Earl of Carlisle and was rewarded with many grants. But his innings was a short one. He did not enjoy his honours above a twelve-month; for, in 1323, he was caught plotting with the Scots. Seized, by order of the King, he was brought to trial, condemned to death after being formally degraded by having his sword taken from his side and his spurs chopped from his heels, and was executed for high treason at Carlisle. After his attainder the manor was sold to Sir Thomas de Musgrave whose family lived here for several generations. In 1361 a licence to crenellate the castle was obtained; in the reign of Elizabeth it was substantially enlarged by Sir Richard Musgrave, who was later created a baronet by James I. The house at this time surrounded a courtyard to the north where now stands the farmhouse. For a long time the castle was kept in good repair, but in 1735 it was pulled down by Sir Christopher Musgrave who removed the wood and lead to repair his other seat at Eden Hall in Cumberland. The site is now occupied by farm buildings and the fabric of the present house, especially in the doors and windows, incorporates a good deal of the ancient stonework. We left the farm and returned to the Kings Arms in Kirkby Stephen.
So ended our day spent for the most part on the banks of the Eden. We had seen, inter alia, three ruined castles - Pendragon, Lammerside and Hartley, formerly the homes of three powerful Wesmorland families - Clifford, Wharton and Musgrave. To-day all the glory and strength and dignity has departed from those strongholds and nothing remains but a few old stones which the builders of a bygone age have rejected. If there is a moral to be drawn, it is perhaps that it is better to get under a public umbrella rather than remain in private hands out in the rain. In the churches of Kirkby Stephen and Appleby there are at least the altar-tombs, dusted periodically by caretakers to bear witness to the past greatness of those families.
As I pondered on these things, walking back to Kirkby Stephen, I remembered a story told me many years ago by Sir Wilfrid Lawson of Brayton. There had been a sale of property somewhere near Penrith; the old owners had gone; the place was in bad repair. Sir Wilfrid met an old Cumberland woman in Aspatria, who began talking to him about this sad event. (In telling the story he copied her voice in his own inimitable way). "Ah," she said, "the glory has departed and over the door is written the word knickerbocker."
1 There are several ways of spelling the name of this tributary of the Lune. In various maps, guide books, and directories I have found Rother, Rowthey, Rothay and Rothey, but I am choosing Rawthey because that is the ordnance map version and because, if there is a choice, I like the full, broad Westmorland sound of the word Rawthey.
2 Country Life, 25th July, 1947.
3 See p. 36 under Kirkby Stephen church.
4 The barony of Wharton fell into abeyance and so remained for many years. In 1916 the abeyance was terminated in favour of Charles Kemeys-Tynte, a descendant of one of the daughters of Philip, 4th Lord Wharton.
5 Preface to "The English Country House." Batsford, 1935.
6 "Historical Monuments Survey," p. 163.
7 "Tour in Wales," 1781.
8 By G. Bernard Wood. Country Life, 22nd March, 1946.
Thanks to Diane Coppard in Leicestershire for transcribing this! Reproduced by permission of Tim Clement-Jones.