Page last updated 28/01/04
A Tour In Westmorland by Sir Clement Jones, published 1948
CHAPTER IV
LADY ANNE CLIFFORD
HER PARENTS - HER HUSBANDS - HER CHILDREN
HER CHARITIES - HER LOVE OF WESTMORLAND
In the previous chapter I have mentioned two of the leading families of Westmorland in mediaeval times, namely, the Whartons and the Musgraves, and I propose now to write about the third great family who lived and whose descendants still live in the Bottom of Westmorland, where for many generations under three names - Veteripont, Clifford and Tufton - they have been by far the largest land-owners in that district.
Was it W.S. Gilbert who, when describing the property of one of the newly rich, said it had "been in the family fourteen years"? The Veteripont estates have been in the family over 700 years, for it was in 1203 that Robert de Vipont was granted the barony of Westmorland, which passed in 1274 to the Cliffords, and it was therefore rather sad to read in the Westmorland Gazette1 that Lord Hothfield, the present head of the Tufton family, had decided to offer for sale a large part of his property, including the Brough Castle estate. The last and surely the most interesting of all the Cliffords was the Lady Anne who by her force of character and indomitable pluck left a mark on her property and a legend in Westmorland that remain to this day.
Anne Clifford, Countess of Dorset, Pembroke and Montgomery (1590-1676), was the only surviving child of George Clifford, 3rd Earl of Cumberland, by his wife Lady Margaret Russell, 3rd daughter of Francis, 2nd Earl of Bedford. She was born at Skipton Castle, Yorkshire, on 30th January, 1590. In studying the character of this remarkable woman it is necessary first to learn something about her parents.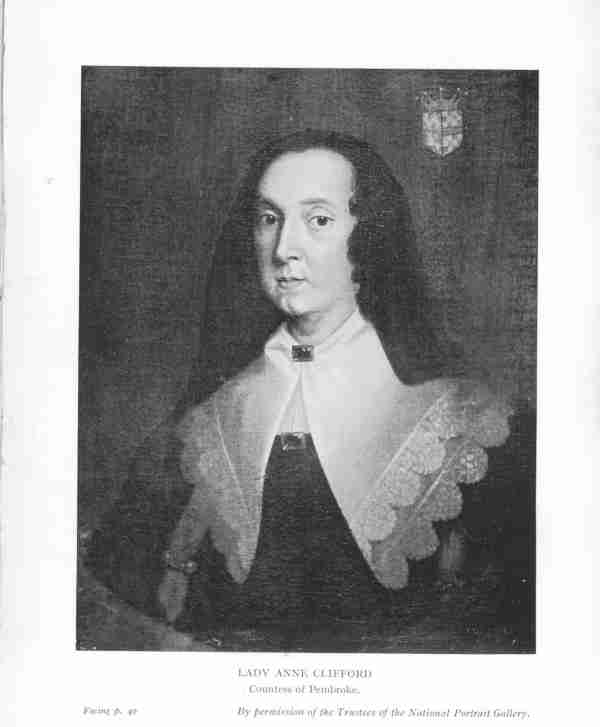 Her father, George, 3rd Earl of Cumberland, was born in 1558 at Brougham Castle in Westmorland.2 His father died in 1570, before he was 12 years of age, so that he became ward to Queen Elizabeth during his minority, which wardship she bestowed on Francis, Earl of Bedford. He then made his home at Chenies or Woburn, and in 1571, at the age of 13, was entered as a nobleman at Trinity College, Cambridge, where he remained in residence for three years. He afterwards studied some time at Oxford, under the tuition of Dr. Whitgift, later Archbishop of Canterbury, where he applied himself more especially to mathematics and geography which stood him in good stead when he became a naval commander. In 1577, when he was just under the age of 19, he married Margaret Russell, the daughter of his guardian. This marriage (which may seem to modern readers to have an "Iolanthe" air about it) had been arranged in their infancy by their respective fathers, but it did not prove a happy one. Cumberland was a man of irregular life; he had an intrigue with a certain court lady which led to his separation from his wife; he was a gambler and ran through a great part of his property; and so he seized on the opportunity offered by the war with Spain to re-establish himself.
His first expedition was in 1586 against the Duke of Parma. He fitted out a little fleet of three ships and a pinnace, and, after a cruise which lasted a year and extended beyond the mouth of the River Plate, returned in September, 1587, without much success to repay the cost which he had borne at his own expense. In 1588, at the age of 30, he commanded the "Elizabeth Bonaventure," a Queen's ship of 600 tons, against the Spanish Armada and, after the decisive action off Gravelines, carried the news of the victory to the camp at Tilbury. The reports of his gallantry so pleased the Queen that she lent him the "Golden Lion," a ship of 500 tons with which to undertake another expedition to the South Sea. The next year she lent him the "Victory" in which, with six other ships all equipped by him, he put out to sea from Plymouth; he luckily fell in with Sir Francis Drake's squadron returning from Cadiz in extreme want of provisions which he relieved and proceeded on his way.
So it went on, year after year, voyage after voyage, until in 1597 he undertook the last and the most considerable of all his expeditions fitting out no fewer than 20 ships, almost all at his own cost. He attacked Porto Rico and was successful in taking the town of San Juan. Here he proposed to clear out the Spaniards and establish an English settlement but later, after sickness had broken out among the troops, he decided to abandon the place and returned to England in 1598. He had made his reputation, but he had lost his fortune.
I have purposely laid stress on this seafaring side of his life, because it was here that he displayed so conspicuously those same qualities of courage in times of difficulty, which we shall notice in the character of his daughter Anne. For the rest he was a reckless spendthrift, a faithless husband, a buccaneer, a gambler, who staked his money on the success of his ships in much the same spirit as he did on the speed of his horses; he was a man of great quickness of wit, activity of body and easy-going disposition. He was in fact just the man for Queen Elizabeth. She made him a Knight of the Garter and he was her champion in all the tilting from 1589 until the time of her death. In that exercise he is said to have excelled all the nobles of his time. At court he was in such high favour with the Queen that she gave him her glove, set in diamonds, to wear as a plume in his hat. He was so much addicted to tilting, horse-racing and other expensive recreations that these, next to his sea voyages, were the main causes of his getting into debt and having to sell some of his lands.As to his appearance, he is described as a man of great personal beauty, strong and active, and splendid in his dress. On these matters we can all judge for ourselves by going to see his portrait by Nicholas Hilliard (1547-1619) in the Exhibition of Elizabethan Miniatures now3 on view at the Victoria and Albert Museum.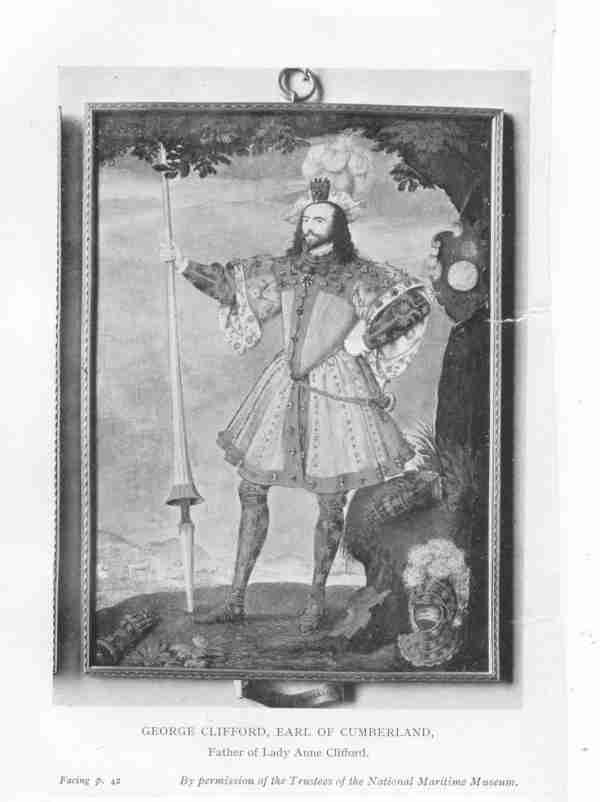 This exhibition, to commemorate the 400th anniversary of the birth of Hilliard, contains several miniatures of great interest to anyone who is studying the life and character of Anne Clifford, because first there is one called "Anne Clifford, Countess of Pembroke, attributed to Nicholas Hilliard" lent by H.M. the King; secondly there are three miniatures of George, Earl of Cumberland, her father, by Hilliard; thirdly there is one of her first husband Richard, Earl of Dorset, by Isaac Oliver. There are plates of all these in the illustrated catalogue. The full-length figure of Anne's father, lent by the National Maritime Museum, Greenwich, has been described as "one of the largest and most celebrated and picturesque of Hilliard's works." The earl is painted in the fancy dress of the Queen's Champion and he is wearing the Queen's glove in his hat. The distant landscape behind him is adapted from the stock scenery used by Durer in his backgrounds.4 It is a striking portrait of a magnificent specimen of a man posing in his plumed hat, lance in hand, in full war-paint of the tournament; but all the fine feathers do not make him look a nice bird to live with in the nest. He died in London in 1605, in the 48th year of his age, and was buried in the family vault at Skipton. His wife who had been separated from him for several years, on account of his intrigues, came with her daughter to see him before he died and was present at his death.
Such was the father of Anne Clifford. What of her mother? We have seen that she was a daughter of Francis Russell, Earl of Bedford, and that her marriage, which was arranged for her in her infancy, proved unhappy. The highest praise must be given her for the pains she took in educating her daughter Anne for her high station. She engaged Samuel Daniel, the poet (1562-1619), as tutor, and in that capacity he came to reside at Skipton and gave Anne lessons when she was in her 11th year. After her husband's death, Anne's mother was closely occupied during the next few years in collecting documents in support of the claim of her daughter to the family estates which her husband, by a will dated only 11 days before his death, had left to his brother Francis and his heirs male "for the preservation of his name and family," thus cutting off an entail of the estate which had been made by his father.
Here were all the makings of a first-class row. Continual lawsuits were waged by the mother on behalf of the daughter. In 1607 they were both denied entrance to Skipton. So it went on until 1616 when the dowager countess died at Brougham Castle in Westmorland, leaving the great lawsuit still unsettled. Her daughter was present at her burial which took place in Appleby Church where her monument may still be seen. The Countess Margaret seems to have been an affectionate mother. Her daughter Anne describes her as a "woman of great natural with and judgment, of a sweet disposition truly religious and virtuous, and endowed with a large share of those four moral virtues - prudence, justice, fortitude and temperance."
In addition to the altar-tomb of black marble and alabaster in Appleby Church there is another monument to the Countess Margaret. It is called "The Countess's Pillar" and stands by the side of the main road from Penrith to Temple Sowerby about half a mile from Brougham Castle. It was erected in 1656 to commemorate the last parting between Lady Anne Clifford and her mother. It stands about 14 feet high and is an octagonal shaft with square facings above; the sides of the square portion bear sundials and two shields of arms (Clifford impaling Vipont, and Clifford impaling Russell) and the following inscription: "This pillar was erected Anno 1656 by the Hon. Anne, Countess Dowager of Pembroke, and daughter and sole heir of the Rt. Hon. George, Earl of Cumberland, and for a memorial of her last parting in this place with her good and pious mother, the Rt. Hon. Margaret, Countess Dowager of Cumberland, the 2nd of April, 1616. In memory whereof she also left an annuity of four pounds to be distributed to the poor within the parish of Brougham every 2nd day of April for ever, upon the stone table here hard by." The stone table referred to is a flat slab about three yards to the east of the pillar.5
Having now seen something of how her parents spent their time we must return to Anne herself. After her father's death in 1605 and for the rest of her life, until she died in 1676 in the 87th year of her age, Anne's time was mainly occupied with her lawsuits, her marriages, and her building operations. To say that all of these "dragged on" slowly and tediously is not, I think, to use too strong a phrase.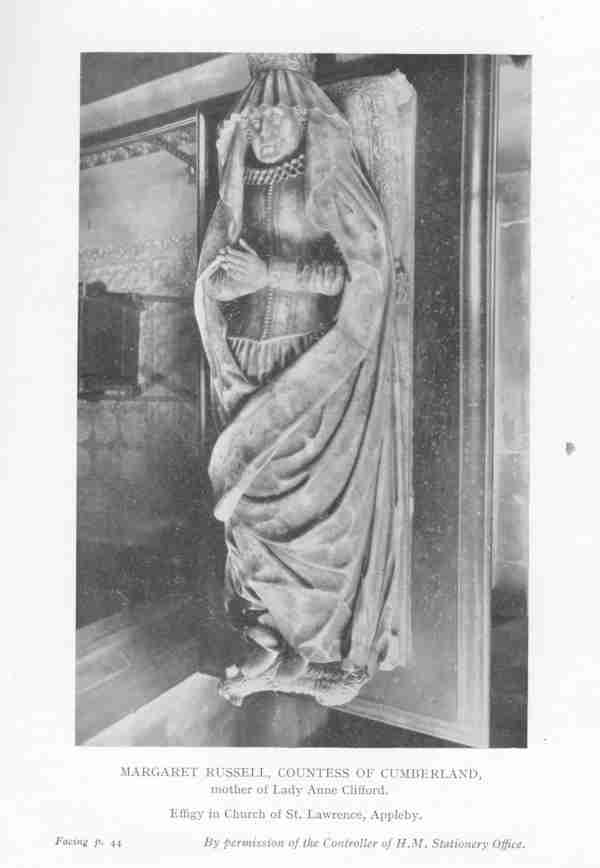 First as to her legal difficulties, by the advice and under the direction of her mother, Anne, in 1605, contested the settlement which her father had made in favour of his brother Francis; she grounded her claim on the entail by King John upon Robert de Veteripont from whom she was descended. We must therefore now do what she did and look back to the origin of this great Westmorland property and see when and how the Cliffords came into it. Briefly the barony of Westmorland, as it was called, consisting of the honours of Appleby and all the subordinate manors, after the Conquest was in the possession of a family called de Morville of Norman extraction. Hugh de Morville was one of the four knights who assassinated Thomas a Becket, Archbishop of Canterbury, in the reign of Henry II. Whereupon Hugh's estates in Westmorland were seized into the King's hands and were subsequently granted by King John to Robert de Veteripont. That family ended in two daughters of whom the elder, Isabella, married Roger de Clifford, took the manor of Brougham, a moiety of other manors, and executed the office of sheriff. Her younger sister, Idonea, who also had a large share of the estates, married, but died without issue, and thus the whole Veteripont inheritance became vested in the heirs of Isabella and Roger de Clifford. He was descended from the family of the Cliffords of Clifford Castle in the county of Hereford, which was so called from being placed on a rock or cliff near a ford across the river Wye. There followed 12 generations of Cliffords in Westmorland until we come to Anne, the 13th generation.
Having chosen her ground for the lawsuit she proceeded to the fight with an undaunted spirit, worthy of her gallant, sea-roving father, and a stubborn tenacity, where her possessions were concerned, that was all her own. Unfortunately for her the King, James I, was in favour of her uncle Francis, the new earl, and, in order to strengthen the earl's title, he granted to Francis his heirs and assigns to the effect following6 to wit: "All our castles, demesnes, and manors of Appleby and Burgh and also the whole bailiwick or office of sheriff of the county of Westmorland, and the rents of the county of Westmorland aforesaid and the services of all our tenants within the same county who do not hold of us by knight's service; and all that whole estate whatsoever which the said Francis's ancestors had held in the counties of Westmorland and York." The King also took the trouble to get himself made arbitrator of these differences, so great was his interest in the case. During the course of this litigation, as though she had not enough on her hands already, Anne chose to get married to her first husband. Her choice, which proved to be a poor one, was Richard Sackville, Lord Buckhurst, who, within two days of the marriage, succeeded as 3rd Earl of Dorset. He and Anne's uncle Francis both agreed to accept the King's arbitration. Whereupon the King forthwith proceeded to make an award greatly in Anne's disfavour. At once the fat was in the fire. Anne would have none of it. Everything was tried to persuade her to agree to arbitration and everything failed. In her diary she mentions a family gathering in the gallery at Dorset House at which the Archbishop of Canterbury was present: "the archbishop took me aside and talked with me privately for one and a half hours, and pressed me both by divine and human means to set my hand to their agreement."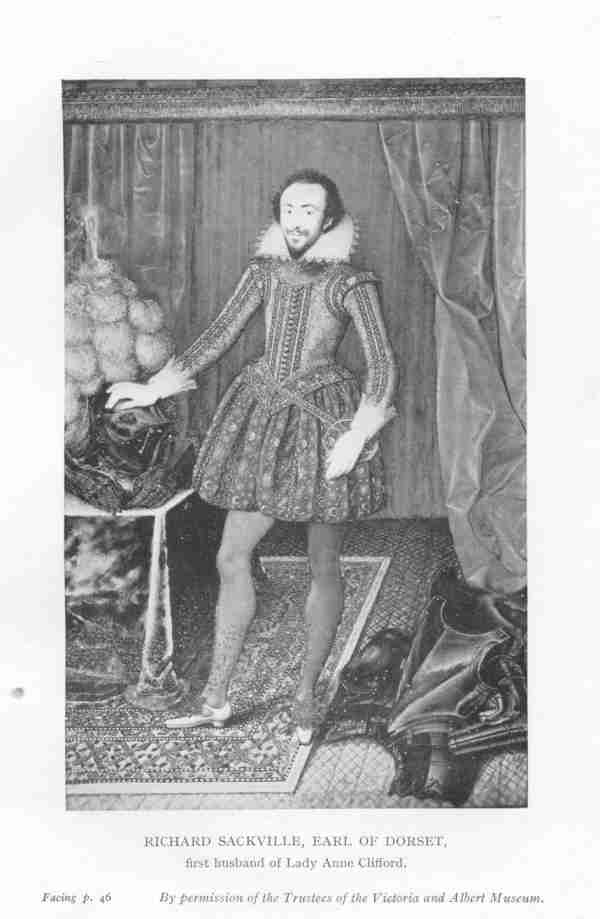 So finally, since everybody else had failed to persuade her to sign away her inheritance, she was summoned with her husband to a private audience with the King. A great scene followed in the royal presence in which King James tried to force her to accept £10.000 from the Earl of Cumberland in lieu of which she would forego all her right and future claim to the inheritance of her father. This she absolutely refused to do, nor could she be induced to agree to it by any threats of persuasions. The King then implored her to put the whole matter in his hands, "but I beseeched His Majesty to pardon for that I would never part with Westmorland while I lived, upon any condition whatever." Two days later she was summoned again into the King's presence and, before the Lord Chief Justice, was asked once more to submit to arbitration. Again both her husband and uncle agreed to the plan, "but I would never agree to it without Westmorland." The end of the matter was that as she would not come to an agreement the law officers went ahead without her. The King's award was confirmed in the court of Chancery and judgment was given against her in the same year "in the court at York for the northern parts." Thus it was that her uncle Francis, 4th Earl of Cumberland, obtained possession of the estate which he and his son, Henry, enjoyed until the death of the son without male issue in 1643, when at last Anne came into the property under the provisions of her father's will.
In the meantime, while the legal disputes were dragging on, Anne had married and started her family. She married in 1609 at the age of nineteen. It was not a happy marriage and little love was lost between them. He was gay and she was serious; moreover the quarrel over her inheritance, in which, as we have seen, he sided against her, was a constant cause of friction and trouble. Dorset had the appearance of what used to be called a spark. I have already mentioned his miniature, painted by Oliver, in the Victoria and Albert Museum. The catalogue of that exhibition quotes a contemporary description of Dorset as "a man of spirit and talent, but a licentious spendthrift." In an illustrated article about this exhibition written by Denys Sutton in Country Life,7 there is a reproduction of this particular miniature as to which the writer says with point that the "portrait of Richard Sackville, 3rd Earl of Dorset, fits the contemporary description of him." Carl Winter refers to it in his "King Penguin" book as one of Oliver's largest and most imposing miniatures reflecting the fashionable style of oilpaintings of Marcus Gheeraets, the younger.
Anne bore Dorset three sons who died in infancy, and two daughters of whom Margaret, the elder, married John Tufton, Earl of Thanet, and ultimately inherited the Westmorland property. Life with Dorset dragged on; a good deal of temper was shown on both sides. On one occasion the earl and countess started from London to go to Brougham Castle to see Anne's mother. They travelled in some style with two four-horse coaches and 26 horsemen. But they quarrelled at Lichfield and Lord Dorset turned back. Anne went on, with ten persons and 13 horses, and hardly had she arrived at Brougham when a letter came from the angry husband to say that the men and horses were return at once. Anne decided that it would be wiser for her to go with them, so taking leave of her mother at the spot now marked by the Countess's Pillar near Brougham, she returned to her bad-tempered husband. After 15 years this unhappy marriage came to an end with the death of Lord Dorset in 1624. Anne was left a widow with two daughters.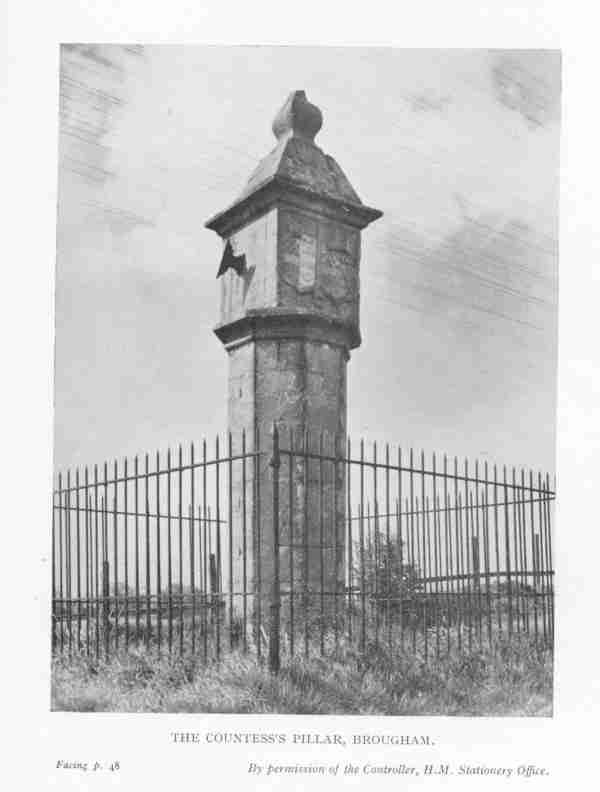 Shortly afterwards she had a sever attack of smallpox "which disease did so martyr my face that it confirmed more and more my mind not to marry again." Why, with the memory of her father and her first husband and their goings-on, she should have even contemplated another marriage, may seem strange; nevertheless, six years later she was married to her second husband, Philip Herbert, 4th Earl of Pembroke and Montgomery, on 3rd June, 1630, at Chenies in Buckinghamshire. They had two sons who died soon after they were born. Pembroke is said to have been a handsome young man - the same was true of Anne's father and first husband and perhaps that was her type - and in the early part of James I's reign he was acknowledged to be the chief of the royal favourites; he was made a Knight of the Garter; High Steward of Oxford University; a privy councillor; and later, in 1626, Lord Chamberlain of the Household. But his character was thoroughly unpleasant. Pennant refers to him as "that brutal simpleton"; the Dictionary of National Biography says that his domestic arrangements were much complicated by his immorality; and we have a first-hand description of him written by a man called George Sedgwick who served under him as paymaster of the regiment raised by Pembroke in the service of Charles I.
Sedgwick was a native of Westmorland who, after some years at Sedbergh School, was sent to Cambridge; but being unable to support himself at the university went up to London and waited on Anne, who was now Lady Pembroke. Luckily, Sedgwick had in his possession a letter written to his grandfather by Margaret, Countess of Cumberland. Needless to say, "as soon as Lady Pembroke saw that letter of her dear mother, who she loved with an entire affection" she sent at once for one of her lord's secretaries and got Sedgwick a job as a young clerk in the Lord Chamberlain's office. Afterwards, when Pembroke had fallen from power and been dismissed from the office of the Lord Chamberlain and had identified himself with the parliamentary opposition, Sedgwick remained on in his employment dealing with his private affairs and estate, and in this way got to know him very well. "Though he had £18,000 a year," writes Sedgwick, "yet through the vast charge in keeping hounds, hawks and hunting-horses he died £55,000 in debt. This Earl Philip could scarce either write or read; not that he wanted good breeding and education, but he would never be brought to mind his book, being addicted to all manner of sports and recreations. He was very temperate in eating and drinking, but much given to women, which caused a separation between him and his virtuous Lady Anne several years before his death." Sedgwick, in another part of his manuscript, writes "In her first widowhood (as I have heard her say) she resolved, if God ordained a second marriage for her, never to have one that had children and was a courtier, a curser and swearer. And it was her fortune to light on one with all these qualifications in the extreme." Poor Anne! She was well aware how unlucky she had been and in later life, when the wounds had healed, she wrote of her two husbands: "These two lords were, in their several kinds, as worthy noblemen as any in the kingdom; yet it was my misfortune to have crosses and contradictions with them both. So the marble pillars of Knole in Kent and Wilton in Wiltshire were to me but gay arbours of anguish."
Her second husband died in 1649 and at long last she was free to return to the North Country where she had always wished to be. Here she lived for the next 26 years, until her death in 1676 at the age of 86, in honour and prosperity, loved, and perhaps feared by some on account of her strength of will, the uncrowned queen of North Westmorland. Freed at last from the worries and anxieties of lawsuits and husbands, she was able to enjoy her position and possessions.
Westmoreland is a county that has been fortunate in her daughters. In our earliest history lessons we were told of the good qualities of Catherine Parr, who was born at Kendal Castle and was the only lucky wife of Henry VIII in that she had the good fortune to outlive him. And in recent times we have seen women who, by their own gifts and energy, have rendered great service in music, in literature, in art, on the magistrates' bench, in hospitals and all good causes. Their good influence and their names have been known from one end of the county to the other. The place and power of Anne Clifford was perhaps different from and greater than any of her successors, by reason of her immense wealth and her hereditary, permanent office of High Sheriffess of the county of Westmorland.
On her arrival in the north, Anne started at once to rebuild or repair six of her ancient castles: Appleby, Brougham, Brough and Pendragon in Westmorland; Skipton Castle and the tower of Barden in Yorkshire. "Her passion," writes the author of her biography in the National Dictionary, "for bricks and mortar was immense." This, however, must be taken metaphorically not literally, for though I have seen a great deal of her work I do not think she ever put one brick upon another. Elsewhere, all over England, builders were using new and more graceful designs and materials, but Anne in her rebuilding kept to the old strong, stone structures. She restored no less than seven churches or chapels - the churches of Skipton, Appleby and Bongate and the chapels of Brougham, Nine Kirks, Mallerstand and Barden. She founded the almshouses which we can see to-day at Appleby, and restored the one which had been built and endowed by her mother at Bethmesley. It was her custom to reside at fixed times at each of her six castles. "She lived in vast hospitality," writes Pennant, "at all her castles by turns, on the motive of dispensing her charity in rotation among the poor of her estates." Sedgwick records that she continued "a year or two in Yorkshire and a year or two in Westmorland, to the great benefit of both counties, expending the rents that she had in these counties." Her journeys from one place to another were like royal progresses; she travelled in a horse-litter, and often took new and bad roads from castle to castle in order to find a reason for spending money among the indigent by employing them in the repairs.
"One strange and unexampled piece of charity she did," writes Sedgwick, "which few ladies would have done. Her husband, the Earl of Dorset, had two bastard daughters; one died in her minority, the other she married to one Mr. Belgrave, a divine, bestowed a portion on her, and preferred him to a living in her gift in Susses, worth £140 a year."
Among her smaller "pieces of charity" it was her habit, when she went to stay with friends, to give them door-locks,made for her by George Dent of Appleby, at a cost of £1 each. One of these she gave to George Sedgwick when she visited him at Collinfield, Kendal, and it is still there. Another of these door-locks, dated 1670, is at Great Asby Rectory, bearing her initials, A.P.
But though generous to her friends and dependents she was frugal in her personal expenses, dressing, after her second widowhood, in black serge, living abstemiously, and pleasantly boasting that "she never tasted wine or physic." In whatever castle she happened to be living, every Monday morning, she caused ten shillings to be distributed among twenty poor householders of that place, besides the daily alms that she gave at her gate to all that came.
All the groceries, spices, stuffs, and the like that were used in her house, all wines, malt, hay, corn and straw for her stables, she bought locally from neighbours and tenants, always paying in cash when they came for it. Seldom did she get anything from London, as she wished the country people to benefit. How different from a family that I remember reading about in a novel when I was young! "They had a house in the country," wrote the novelist, "where they knew nobody, and had their friends down from London with the fish." The methods pursued by Anne seem to have been the exact opposite, her maxim being local labour, local materials and local friends.
In writing about the building activities of Anne Clifford, some mention must be made of her steward, Gabriel Vincent. He died in 1665 in Brough Castle, and his tombstone may be seen to-day in Brough Church. It is a flat stone on the floor, between the pulpit and the front pew, partly covered by an ugly but no doubt necessary radiator. The inscription on it records that it is in memory of "Gabriel Vincent, Steward to the Right Hon: Anne Clifford, Countess Dowager of Pembroke, Dorset and Montgomery, Chief Director of all her buildings in the North, who died in the Roman Tower of Brough Castle like a good Christian 12 Feb. 1665, looking for the Second Coming of Our Saviour."
Anne was devoted to the Church and helped many clergy with her bounty; she was well versed in the Scriptures which she was able to quote on occasion. She constantly read the Psalms appointed for the day and had three or four chapters of the Bible read to her daily by some of her women. She was a careful student of history and had a good library of well-chosen books. She kept her accounts most exactly. Besides which, Sedgwick informs us, she kept, in a large folio paper book, a diary wherein she had entered the occurrences of each day and the names of all strangers that came to her house whether on visits or on business.
And so she died in a good old age leaving behind her a happy memory and a legend that has lasted to this day.
Two stories are still told about her. The first is this: The Secretary of State to Charles II wrote to her, naming a candidate for her pocket borough of Appleby. To this she replied: I have been bullied by an usurper, I have been neglected by a court, but I will not be dictated to by a subject; your man shan't stand."
The second story is that when she was invited to come to the court of Charles II she answered that she could not possibly attend His Majesty's Court, unless she came in blinkers.
That these two stories may not be genuine does not perhaps matter so much as the fact that they were recognised by those who knew her as characteristic of herself, and they have been handed down from her time to ours as illustrations of her independent spirit. No-one can doubt her strength of will. To-day she would probably be regarded as "a very bossing sort of woman," but we must remember that she had suffered much and must be forgiven much on account of her abiding love of Westmorland and for all that she did for that county.
1 16th August, 1947.
2 In Nicolson & Burn's "History" the birthplace is mentioned (p. 289) as Brough Castle, but Brougham was then the principal seat of the Cliffords. The two names are liable to be confused. Brough Castle had stood in complete ruin since it had been accidentally burned in 1521.
3 July, 1947.
4 Carl Winter, Elizabethan Miniatures; King Penguin Book, 1943
5 For an account of the distribution of this charity in recent times see Canon Rawnsley, "Round the Lake Country." Maclehose, 1909. Chap. IX. "At the Countess Pillar."
6 See Nicolson & Burn, Vol. 1, p. 291.
7 29th June, 1947.
Thanks to Diane Coppard in Leicestershire for transcribing this! Reproduced by permission of Tim Clement-Jones.